The Originators of Quick & Easy Cooking!
Bread Bowls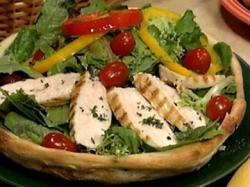 Store-bought pizza dough is stretched to its tasty limits when we try out this easy recipe for edible bread bowls with it! Imagine the endless possibility of fillings that can turn this "looks as good as it tastes" idea into one to "bowl them over!"
What You'll Need
1 pound store-bought pizza dough, cut into 4 equal pieces
Nonstick cooking spray
What to Do
Preheat the oven to 425 degrees F. Coat the outsides of four disposable 8-1/2-inch round cake pans with nonstick cooking spray.

Turn the cake pans upside-down and stretch a dough quarter over the outside of each; prick each crust all over with a fork.

Bake for 8 to 10 minutes, or until lightly browned. Carefully remove the crusts from the cake pans and place on a wire rack to cool. Serve (see tips below), or place in an airtight container until ready to serve.
Tips
SERVING TIPS: We can do so much with these! Fill 'em with your favorite mixed greens and top with grilled chicken or shrimp for a complete meal in one edible bowl! Use them for serving dips, or even for individual servings of your favorite hearty chili and stew.
TASTY TIP: To flavor the bread bowls, lightly brush the outside of the dough with melted butter or olive oil and sprinkle with garlic or onion powder before baking.