The Originators of Quick & Easy Cooking!
How To: Bread Chicken Pieces
Want to learn how to bread chicken? You're in the right place. Breaded chicken is a classic dinner staple that we all love. But getting that perfect breading in a fast and easy way can be tricky. Thankfully, we've made it simple! You'll learn how to bread chicken in just a few simple steps, and then take those skills into the kitchen to totally amp up dinner time. From fried chicken recipes to baked chicken recipes, this easy chicken breading is a universal winner. And with our tips, you'll be an expert in no time!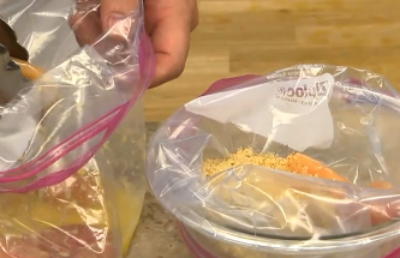 How to: Bread Chicken Pieces
Cut your chicken into equal sized pieces.

This will help your chicken cook evenly. 
If your chicken is a little wet, pat it dry with a paper towel. This will help the breading stick better. 

Place chicken into a plastic storage bag. 

Cuffing your storage bag around a bowl will make it easier to place the chicken inside without the bag falling over! 

Add a beaten egg. Be sure to seal up your plastic storage bag tightly to prevent spilling.
Give the bag a good shake! Make sure all of the chicken pieces are completely covered in egg.
Pour your bread crumbs into a second bag to prepare for breading.

 We don't add the bread crumbs directly to the egg and chicken mixture because we want to avoid the bread crumbs clumping together.

Seel your bag tight and give it a good shake!

Make sure to coat all of the pieces of chicken evenly.
Press slightly on the chicken to make sure the bread crumbs are sticking.

Remove your chicken from the bag for cooking!

This method of breading works well for both frying and baking!
Breaded chicken is a classic dinner time favorite that the whole family will love! Now that you're an expert in how to bread chicken, try out your new skills with some of our favorite breaded chicken recipes. You'll be glad you did.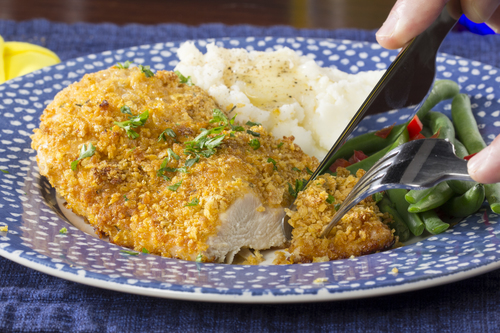 This tasty chicken recipe from the Red Rooster Restaurant in Rhode Island is "simple but elegant." A big thanks goes out to Normand for the recipe, which is why we like to call it Chicken Normand-y.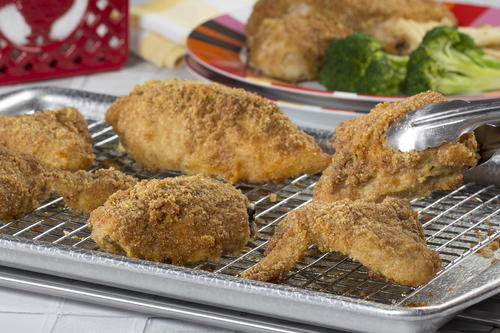 We found a "buttery crispy" way to make fried chicken and it doesn't involve any frying! Our Oven-Fried Parmesan Chicken is super juicy, flavorful, and extra crispy. Your family is going to devour this oven-fried chicken!