The Originators of Quick & Easy Cooking!
How To: Cook Bacon in the Microwave
We all know about cooking bacon in skillets and ovens, but have you ever made bacon in the microwave? What an easy way to cook bacon! Cooking bacon in the microwave is simple, fast, and hassle-free. And, we think you'll find that microwave bacon tastes absolutely delicious. The microwave is great for making just a few strips at a time, and then having a personal feast! But, how to cook bacon in the microwave, you ask? We'll show you! Eggs and bacon for breakfast, and all your other easy bacon recipes, just got easier. Here we'll show you how to microwave cook bacon perfectly, how to know when your bacon is done, and how to get those strips looking crispy everytime!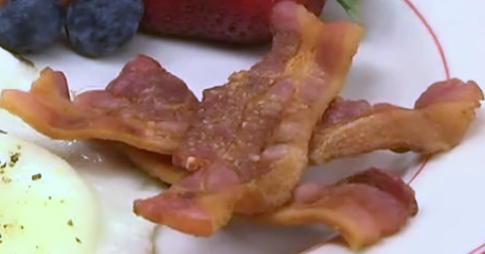 How To: Cook Bacon in the Microwave
Place a paper towels on a plate: Make sure there are at least two layers.
Lay your bacon strips over the paper towels: It's important that, with this method, the strips do not overlap. 
Place another paper towel over top of the bacon. 
Place bacon into the microwave: Cook on high, 1 minute per piece of bacon. 

If, after cooking it for the designated time, the bacon is still not as crispy as you'd like it to be, continue cooking it for 30 second intervals. 
Keep in mind that cook time may vary depending on the strength of your microwave, and the thickness of your bacon.

Remove from the microwave and serve!
Now that you know how to cook bacon in the microwave, you can have delicious bacon anytime you want, in no time at all! Try out your skills with these yummy recipes:

Report Inappropriate Comment
Are you sure you would like to report this comment? It will be flagged for our moderators to take action.
Thank you for taking the time to improve the content on our site.
LATEST TV RECIPE & VIDEO
The great thing about beets is they're available all year long, and while they are quite versatile, pickling them is the most popular way to cook this colorful veggie. So grab a pot, boil some water, and start slicing, 'cause this Amish Pickled Beets recipe is one you won't want to miss!