The Originators of Quick & Easy Cooking!
How to Dye Easter Eggs
Will you be dying Easter eggs this holiday? While there are a ton of prepackaged Easter egg kits that include everything you need for decorating Easter eggs, it's easy to do without one too! All you need are some eggs, water, and a few bottles of food coloring. With these simple ingredients and in less than 10 minutes you can have perfectly dyed eggs ready to go in your Easter basket. And if you like adding a little more personality to your Easter eggs, check out our other tips and tricks for Easter egg decorating.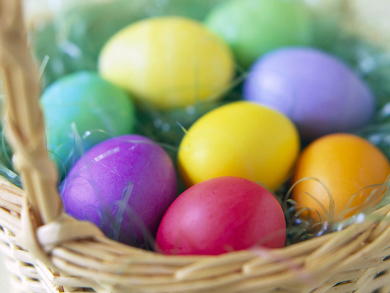 Check out our video and tips on how to dye Easter eggs. Once you see how easy it is, you might love decorating Easter eggs so much, they'll call you the Easter bunny!
Hard boil your eggs, but don't peel 'em! 
Add a cup of boiling water and a few drops of food coloring* to a bowl. Use one bowl for each color.

Vibrant colors - Add one tablespoon of vinegar
Pastel colors - Add one tablespoon of lemon juice

Place your eggs in the water, covering completely if you want the whole egg to be covered. You can also dip half in one color and the other half in another color! 
Eggs will start to change color within 1-2 minutes. Keep your egg in the colored water until they've reached the desired color. 
Brush 'em with a little vegetable oil to make 'em shiny, and you're all done! Remember to treat your dyed Easter eggs the way you would treat any hard-boiled egg. 
If you'd rather not use food coloring, try coloring your eggs with a natural dye. Just boil the water along with the natural dye material (beets, blueberries, turmeric) until you've got the color you want. Then, add about a tablespoon of vinegar and follow as above. Note: Naturally dyed eggs will have to soak for much longer (possibly overnight) to achieve the desired color. 
LATEST TV RECIPE & VIDEO
Potato pancakes are a symbolic and scrumptious treat commonly made for Hanukkah. Not only are they super crispy and really tasty, but thanks to the pre-shredded potatoes you can find at your favorite supermarket, these Simple Shredded Potato Pancakes are, well, simple to make!