The Originators of Quick & Easy Cooking!
How to Crack a Coconut
So, you got your hands on some fresh coconut, but you aren't really sure where to begin. You've heard of people using cleavers and cracking open the coconut against sharp edges; you've even seen them use machetes in some areas, but these aren't really practical options for you in your kitchen. That's why we're showing you a couple of the easiest ways we know how to crack open a coconut. Opening a coconut with our methods is less risky and much more kitchen-friendly. After just a few tries, you're going to become a pro at cracking a coconut!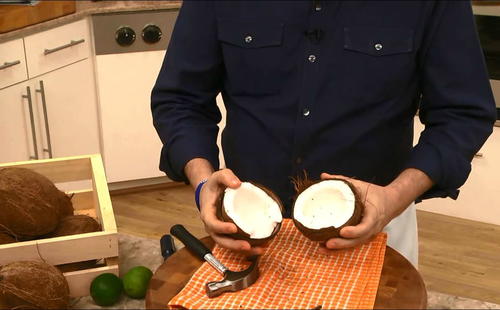 How to Crack a Coconut
First, you'll want to drain the coconut water that's in the coconut. To do this, place a kitchen towel underneath a heavy cutting board, and then place another towel on top of the cutting board. This'll help prevent the coconut from slipping. Use a Phillips head screwdriver to puncture the coconut's "eyes" (these are circular shaped indentations at one end of the coconut). You may need the help of a hammer to puncture the eyes, as only one of them will be soft enough to puncture. (Watch your hands!) Once you've made the holes, you can empty the water into a bowl and save it to use in soups, sauces, or drinks.
Option 1: This is the fastest way to open a coconut. Hold the coconut firmly with one hand and whack the coconut firmly with a hammer (Watch your hands again!). Do this several times, sort of rotating it as you go along, until it cracks open. Remove the meat by using a spoon to pry it apart. 
Option 2: Place a coconut on a baking sheet (after removing the water) and bake for 15 minutes at 400 degrees F. After it cracks in the oven, let it cool for a bit before tapping it to separate the meat from the shell. 
To remove any of the brown skin before shredding or grating the coconut meat, you can simply use a vegetable peeler. Of course, you can always eat it as-is, too!
Usually, if a recipe calls for coconut we simply go to the pantry and pull out a bag of shredded coconut. Pretty easy, huh? But if you've got fresh coconut on hand, and you know how to open a coconut (you should now!) you can always substitute with freshly shredded or grated coconut. 
LATEST TV RECIPE & VIDEO
This easy yet elegant version of prime rib will rival anything you can find at the fanciest restaurant. Our Test Kitchen made sure that this one is low on work and high on good taste. Perfect for holiday entertaining or enjoying all year long.