The Originators of Quick & Easy Cooking!
05.19.17: Cleaning Up & Using Leftovers

Updated May 18, 2017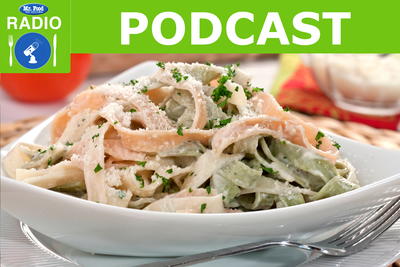 Is your fridge starting to look a little messy? Then you're in luck, 'cause we're sharing some of our best tips and tricks for keeping your fridge and kitchen clean. Plus, we're talking about expiration dates, what to do with leftover produce, and more. Then, make sure you stick around to listen to our thoughts on one of the trendiest kitchen gadgets of the year - the spiralizer! And before it's all said and done, you'll get to hear about The Ultimate Cooking for Two Cookbook, and all of the tasty recipes that the Test Kitchen developed to suit your household size. With a belly full of tasty food and a clean kitchen at home, we're giving you plenty of reasons to say, "OOH IT'S SO GOOD!!®"

- How to Clean Out Your Refrigerator + Expiration Dates: What They Really Mean (Begins at 0:00)

- How to Get Rid of Leftover Produce & Using Food for Cleaning (Begins at 9:00)
Featured Recipes: Garbage Salad

-Test Kitchen Find: Spiralizer/Vegetti/Zoodle Maker (Begins at 21:00)
Featured Recipes: Skinny Mini Fettuccine, Lean & Mean Pasta Skillet

- The Ultimate Cooking for Two Cookbook (Begins at 31:00)
Featured Cookbooks: The Ultimate Cooking for Two Cookbook

Want to be a part of the show? Just email your questions to radio@mrfood.com and you might be featured in one of our upcoming episodes!

Did you know you could listen to us on iTunes? Click here to check us out and subscribe!

Report Inappropriate Comment
Are you sure you would like to report this comment? It will be flagged for our moderators to take action.
Thank you for taking the time to improve the content on our site.