The Originators of Quick & Easy Cooking!
05.31.16: Dairy-Good Recipes

Updated May 17, 2017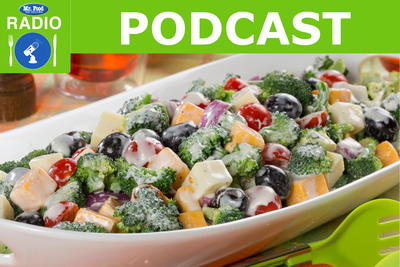 June is Dairy Month and we're milking it for all its worth! This week we're talking about all the different items you can find in the dairy case of your market, including milk, eggs, cheese, yogurt, creamers, and more. Howard interviews Skip Shaw, president of the National Frozen & Refrigerated Foods Association to get some insider information on trends and upcoming products in the dairy case. But that's not all! We put our taste buds to the test with some in-studio, milk taste testing. We think you'll have fun learning and laughing along with us as we deliver lots of, "OOH, IT'S SO GOOD!!®"

- June is Dairy Month! What Do You Like About the Dairy Aisle? Milk, Butter, Cheese, Creamers, Eggs, etc. (Begins at 0:00)
Featured Recipes: Ham and Cheese Quiche, Easy Quiche Recipes Collection

- Yogurt: What Are the Different Kinds? How Do You Use It? Can It Be Used As a Substitute? (Begins at 9:00)
Featured Recipes: Mediterranean Kale Bread, Cannoli Flapjacks, Broccoli and Cheese Salad

- Howard Interviews Skip Shaw, President/CEO of National Frozen & Refrigerated Foods Association (Begins at 20:00)
Great Link: Easy Home Meals

- Milk: What Are the Different Kinds? What Do You Use Them For? On-Air Taste Testing! (Begins at 30:57)
Great Link: Almond Milk & No-Bake Cookies

Want to be a part of the show? Just email your questions to radio@mrfood.com and you might be featured in one of our upcoming episodes!

Did you know you could listen to us on iTunes? Click here to check us out and subscribe!

Report Inappropriate Comment
Are you sure you would like to report this comment? It will be flagged for our moderators to take action.
Thank you for taking the time to improve the content on our site.
LATEST TV RECIPE & VIDEO
These Grande Chicken Fajitas are a Southwest-favorite! The key to making these really flavorful is to start off with well-seasoned chicken, which is why we coat ours with lots of spices. Add in plenty of tender-cooked peppers and onions and you've got yourself the bare bones of a Tex-Mex restaurant classic. Now, go on and dig in!