The Originators of Quick & Easy Cooking!
04.07.17: Eggs and Easter Traditions

Updated May 17, 2017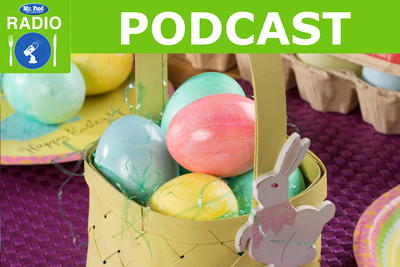 With Easter right around the corner we're talking about our favorite traditions, including traditions from around the world. Plus, Howard shares some tips and tricks for making and peeling hard-boiled eggs. Then, "Have you ever played the egg knocking game?" We'll tell you how it works on-air, so you can add some more fun to your Easter celebrations this year! Brandy Gamoning of NestFresh Eggs® joins us for an egg-cellent time, to share some great info on chickens and eggs. Finally, we're wrapping up the show with a chat about National Subling Day, and the best ways to show your sibling(s) some love on this unofficial holiday. This week's show is sure to have you saying, "OOH IT'S SO GOOD!!®"

-Easter Traditions in the Test Kitchen (Begins at 0:00)
Featured Article: 12 of the Most Interesting Easter Traditions from Around the World

-How to Hard Boil Eggs + Egg Knocking! (Begins at 9:00)
Featured Collections: Recipes with Hard Boiled Eggs, Simple Deviled Eggs Recipes
Featured How-Tos: How to Make Hard-Boiled Eggs, How to Peel an Egg, How to Dye Easter Eggs

-Interview with Brandy Gamoning, Brand Manager at NestFresh Eggs® (Begins at 21:00)
Featured Website: NestFresh.com

-National Sibling Day (Begins at 32:00)
Featured Cookbook: The Ultimate Cooking for Two Cookbook
Featured Movie: The Founder

Want to be a part of the show? Just email your questions to radio@mrfood.com and you might be featured in one of our upcoming episodes!

Did you know you could listen to us on iTunes? Click here to check us out and subscribe!

Report Inappropriate Comment
Are you sure you would like to report this comment? It will be flagged for our moderators to take action.
Thank you for taking the time to improve the content on our site.
LATEST TV RECIPE & VIDEO
Hosting a party or attending a potluck? Break out the pita chips and set out a bowl of this Summer Party Salad. This diabetic-friendly salad is full of color, taste, and nutrition 'cause it's loaded with a variety of delicious summer veggies!