The Originators of Quick & Easy Cooking!
05.10.16: Graduation Grub

Updated May 17, 2017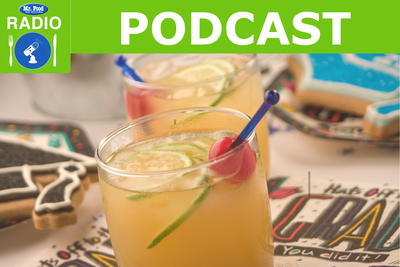 With graduation season upon us, we're talking about different ways to add some class to your graduation party, including ideas and recipes for serving lots of people. And if you've got a graduate who is interested in joining the food world, you'll want to hear about some of the food jobs that are out there, along with our personal experiences working some of them. We're also interviewing two authors of a must-have cake decorating book and giving you a chance to win a copy! Finally, before we go, we're talking herbs - how to plant them and how to use them. Summer is almost here and we want you to be armed with everything you need to enjoy lots of "OOH IT'S SO GOOD!!®"


- What Did You Do for Graduation & How to Plan a Graduation Party, Including Great Recipes! (Begins at 0:00)
Featured Recipes: Cap and Gown Punch, Layered Italian Crescent Ring, All-American Kitchen Sink, Dogs 'n' Hogs, Southwestern Chicken Salad Spirals
- Food Jobs - What Are They & What It's Like to Work Them. (Begins at 10:00)
- Howard Interviews Karen Tack & Alan Richardson, Authors of "Cake My Day!" (Begins at 20:55)
- Herbs - The Difference Between Fresh & Dried, Including How to Plant Your Own. (Begins at 31:55)
Featured Recipes: Country Buttermilk Dressing

Want to be a part of the show? Just email your questions to radio@mrfood.com and you might be featured in one of our upcoming episodes!

Did you know you could listen to us on iTunes? Click here to check us out and subscribe!

Report Inappropriate Comment
Are you sure you would like to report this comment? It will be flagged for our moderators to take action.
Thank you for taking the time to improve the content on our site.
LATEST TV RECIPE & VIDEO
These Grande Chicken Fajitas are a Southwest-favorite! The key to making these really flavorful is to start off with well-seasoned chicken, which is why we coat ours with lots of spices. Add in plenty of tender-cooked peppers and onions and you've got yourself the bare bones of a Tex-Mex restaurant classic. Now, go on and dig in!