The Originators of Quick & Easy Cooking!
01.27.17: January Wrap Up

Updated May 17, 2017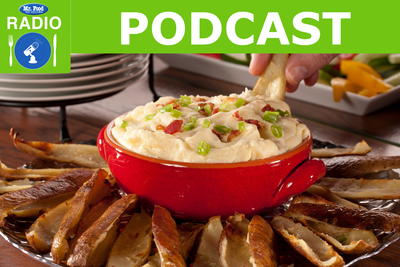 In this week's show you can "eggs-pect" to learn a lot about eggs, including some of the different ways to cook them and great recipes to try. Plus, we're answering some of the game day-related questions we've received this week. (Have you figured out what you're serving yet?) Then, we're chatting with MarkCharles Misilli about his newest cookbook, Easy Everyday Favorites, which you'll definitely want to check out! Before it's all said and done, be sure to stick around for some more game day ideas, so you'll be ready for next week's big game. By the end of the show, you'll have plenty of reasons to say, "OOH IT'S SO GOOD!!®"

-Eggs 101 (Begins at 0:00)
Featured Recipes: 3-Minute Breakfast Hash, Ham and Cheese Quiche, Breakfast Frittata
Featured Videos: How to Make Hard-Boiled Eggs, How to Peel an Egg, How to Separate Egg Whites, How to Fry an Egg, How to Poach an Egg
Featured Products: Eggspress Egg Cooker & Poacher

-The Test Kitchen Answers Your Questions (Begins at 9:00)
Featured Recipes: Slow Cooker Pizza Dip, Bread Bowl Fondue, Fresh Corn Dip
Featured Collections: Winning Game Day Menus

-Interview with MarkCharles Misilli, author of Easy Everyday Favorites, from QVC (Begins at 21:00)

-Game Day Bites (Begins at 31:59)
Featured Recipes: Low Country Shrimp Boil, Bacon Wrapped Scallops, Jumbo Shrimp Cocktail, Wildly Wicked Raspberry Wings, Steakhouse Dip with Potato Crisps, Angel Fluff Brownies, Sinful Seven Layer Cookies
Featured Collections: 35 Unbelievably Good Dip Recipes, 12 Marvelous Mini Dessert Recipes
Featured Products: Party City's Snack Stadium, Jet's Snack Stadium, Alouette Cheese

Want to be a part of the show? Just email your questions to radio@mrfood.com and you might be featured in one of our upcoming episodes!

Did you know you could listen to us on iTunes? Click here to check us out and subscribe!


Report Inappropriate Comment
Are you sure you would like to report this comment? It will be flagged for our moderators to take action.
Thank you for taking the time to improve the content on our site.
LATEST TV RECIPE & VIDEO
Hosting a party or attending a potluck? Break out the pita chips and set out a bowl of this Summer Party Salad. This diabetic-friendly salad is full of color, taste, and nutrition 'cause it's loaded with a variety of delicious summer veggies!