The Originators of Quick & Easy Cooking!
06.28.16: Celebrating Our Military

Updated May 17, 2017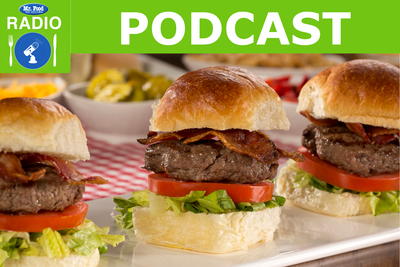 On today's show we're saluting the United States Navy on board the USS Bataan. We're learning all about life in the Navy, including how the US Navy feeds thousands of sailors every single day and what day-to-day life is like. Best of all, you'll get to hear about it from the sailors and the Captain! We're also asking about their favorite food on board and from their travels around the world. You'll be surprised to learn that Navy Bean Soup isn't really popular anymore, but "Hamburger Wednesdays" are! We hope you'll listen, laugh, and learn with us as we salute the men and women who fight for our country. Together, we'll all be saying "OOH IT'S SO GOOD!!®"

- Interviewing Captain John Carter (Begins at 0:00)
Featured Links: USS Bataan (LHD 5)
Inspired Recipes: Dressed-Up BLT Sliders, Perfect Pesto Pasta

- Interviewing Marianna Luporini (Supply/Hazardous Materials/Postal Officer) and Nigel Mahone (Chief Culinary Specialist/Lading & Chief Petty Officer for S5 Division) (Begins at 9:00)
Inspired Recipe Collection: Tasty Recipes for Food Around the World
Featured Cookbook: The Ultimate Cooking for Two Cookbook

- Interviewing Brian Wheeler (Culinary Specialist 1st Class) and Demarco Herrod (Culinary Arts Specialist) (Begins at 20:00)
Inspired Recipes: Red Carpet Chicken Cordon Bleu, Buffalo Chicken Tenders, Peanut Butter and Jelly Bread , Simple Surf 'n' Turf

- Touring the USS Bataan - Hot Dogs Around the Country - Interviewing Tathyanie Vilela (Fireman) and Wesley Mundin (Operations Specialist) (Begins at 29:58)
Featured Recipes: Coney Island Hot Dogs, NY Vendor Hot Dogs, Old Time Hot Dog Sauce
Featured Links: City Hot Dog Guide
Featured Places: Gene & Jude's

Don't forget to check out our blog for lots of great photos, too!

Want to be a part of the show? Just email your questions to radio@mrfood.com and you might be featured in one of our upcoming episodes!

Did you know you could listen to us on iTunes? Click here to check us out and subscribe!


Report Inappropriate Comment
Are you sure you would like to report this comment? It will be flagged for our moderators to take action.
Thank you for taking the time to improve the content on our site.
LATEST TV RECIPE & VIDEO
These Grande Chicken Fajitas are a Southwest-favorite! The key to making these really flavorful is to start off with well-seasoned chicken, which is why we coat ours with lots of spices. Add in plenty of tender-cooked peppers and onions and you've got yourself the bare bones of a Tex-Mex restaurant classic. Now, go on and dig in!