The Originators of Quick & Easy Cooking!
05.03.16: Recipes for Mom

Updated May 17, 2017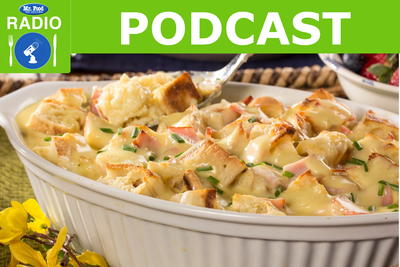 Mother's Day is all about making mom feel special and that's just what we're talking about! From recipes that'll make mom smile to recreating some of mom's most popular recipes, we're covering it all. We'll even give you some Mother's Day gift ideas and let you know what you definitely shouldn't be getting her. Finally, we're sharing some of our favorite recipes for the upcoming Kentucky Derby, so you can celebrate right at home (just don't forget your dapper-wear!). You'll laugh with us, you'll learn from us, and most importantly, you'll be saying, "OOH IT'S SO GOOD!!®"

- How Do You Treat Mom on Mother's Day? Plus, Recipes to Make Her Feel Special. (Begins at 0:00)
Featured Recipes: Painted French Toast, Eggs Benedict Casserole, Donut Bread Pudding
- Recipes Mom (And Grandma!) Used to Make. (Begins at 9:00)
Featured Recipes: Tomato Soup Cake, Mama's Meat Loaf
- Gifts and Experiences to Give Mom. (Begins at 20:00)
- Celebrating the Kentucky Derby. (Begins at 30:55)
Featured Recipes: Mint Julep, Easy Kentucky Burgoo, Derby Chocolate Pie, Mint Julep Brownies
Tips: How to Decorate Pie Crusts

Want to be a part of the show? Just email your questions to radio@mrfood.com and you might be featured in one of our upcoming episodes!

Did you know you could listen to us on iTunes? Click here to check us out and subscribe!

Report Inappropriate Comment
Are you sure you would like to report this comment? It will be flagged for our moderators to take action.
Thank you for taking the time to improve the content on our site.