The Originators of Quick & Easy Cooking!
BergHOFF Ron 6pc Knife Block Set Giveaway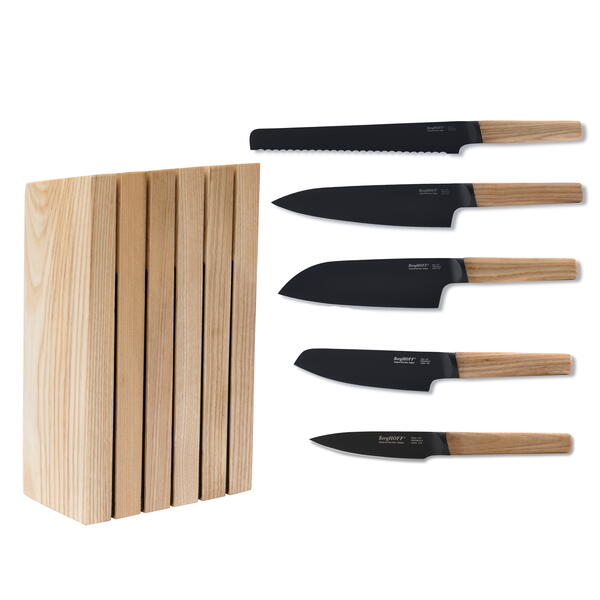 BergHOFF Ron 6pc Knife Block Set Giveaway
Gifted By: BergHOFF
Value: $500.00

Enter for a chance to win a Ron 6pc Knife Block Set Natural (5 Knives & Block).

The deadline to enter is March 3rd, 2024 at 11:59:59 PM Eastern Time.
We'll send an email to the winner, so please check to make sure your email address is entered correctly.
BergHOFF Ron 6pc Knife Block Set Giveaway
[ Close Rules ]
Official Rules
BergHOFF Ron 6pc Knife Block Set Giveaway (Promotion #12592). Prize courtesy of BergHOFF
Website Name: MrFood.com
No purchase necessary to enter or win. Product purchase will not enhance chances of winning a prize.
1. ELIGIBILITY
The Product Review and Book Review sweepstakes/giveaways, collectively known as the "Promotions," are offered and open only to legal residents of United States and its territories (except residents of Puerto Rico) at least 13 years old at the time of entry. Employees and directors of Prime Publishing LLC, affiliated and subsidiary companies, advertising and promotion agencies, judges and legal advisors, and the immediate family (parent, child, sibling and spouse of each) or members of the households of such employees and directors are not eligible. By entering, you (and your parents and legal guardians if you are a minor) agree to these "Official Rules" and that the decisions of Sponsor and Prime Publishing LLC are final and binding in all respects.
Void in Puerto Rico, Canada and where prohibited or restricted by law.
2. PROMOTIONAL PERIOD
Promotional period begins on March 6th, 2023 at 12:00:00 a.m.
Eastern Time (ET), and ends on March 3rd, 2024 at 11:59:59 p.m. ET.
3. TERMS
You may enter one (1) email address five (5) times per day. Should you provide Sponsor with invalid or ineligible email addresses, you may lose the entry earned for this email address. Further, provide only one (1) valid email address for any person; if a person has more than one (1) email address, provide only one of their email addresses.
Sponsor's computer system will be the official computer for the random selection of winners. Winners, and the prizes won by each winner will be determined by random drawing.
Failure to claim a prize within fourteen (14) days of the date on which the prize is awarded will result in forfeiture of the prize.
You are eligible to win a Website Sweepstakes only once every six months. Only one winner per household is permitted in any sweepstakes.
You are eligible to win a prize valued at $300.00 or more only once every twelve months.
4. PRIZES/ ODDS
The prizes offered in the Promotion, along with the odds of winning and the approximate prize value for the prizes, are as follows:
Ron 6pc Knife Block Set Natural (5 Knives & Block)
TAXES ARE THE SOLE RESPONSIBILTY OF WINNER.
Prime Publishing LLC reserves the right to substitute a national gift card for the suggested retail price of the winning prize instead of shipping the actual prize.
5. PLAYING CONDITIONS
Sponsor reserves the right to investigate and verify any prize winner and disqualify any winner who it finds, in its sole judgment, has not complied with these Official Rules.
Winner and verification determinations are made by Sponsor, whose decisions are final and binding in all respects.
Alternate Method of Entry: You may submit one entry per day by mail to:
Promotion # ___ (see above) c/o Prime Publishing LLC, 3400 Dundee Road, Suite, 220, Northbrook, IL 60062.
6. GENERAL CONDITIONS
Winners may be required to complete, execute and return an Affidavit of Eligibility, a Liability Release, and where lawful, a Publicity Release within seven (7) days of notification in a form provided by Sponsor.
Failure to return documents timely, or if prize notification or prize is returned as non-deliverable, or if Winner is found not to be in compliance with these Official Rules or otherwise ineligible, may result in disqualification with an alternate Winner selected. Where permitted by law, you hereby give permission to Sponsor and its respective parent companies, distributors, affiliates, subsidiaries, officers, vendors, advertising agencies and promotion agencies and their respective directors, officers, employees, representatives and agents permission to use, reproduce, exhibit, display, print, distribute, publish and broadcast, without any obligation to compensate you, your name, city/state, picture, portrait, likeness, voice, biography, and winner's statement, contained in, or relating to, your entry in the Promotion in any and all advertising marketing and promotional materials, worldwide in any media now known or hereafter developed, including but not limited to the world wide web, except where prohibited by law, and without notice, approval or review by you.
Where permitted by law, you, and on behalf of your heirs, executors, administrators and assigns, agree to release and hold harmless Sponsor, Prime Publishing, LLC and their parent companies, distributors, affiliates, subsidiaries, officers, vendors, advertising agencies and promotion agencies, and each of their respective directors, officers, employees, representatives and agents from any and all liability for, or relating to, any and all rights, claims and causes of action whatsoever that you may have, or which may arise, against any of the foregoing for any matter or cause whatsoever, including without limitation, any injuries, loss or damage of any kind, whether direct or compensatory, incidental, consequential or otherwise to any person, including death, and property damage, arising in whole or in part, directly or indirectly, from acceptance, possession, use or misuse of the Prize, your participation in any Promotion-related activity, or your participation in the Promotion.
Sponsor reserves the right, at its sole discretion, to disqualify any individual it finds, in its sole discretion, to be tampering with the entry process or the operation of the Promotion or the Website; to be in violation of the Terms of Service of the Website; to be acting in violation of the Official Rules; to be acting in a non-sportsmanlike or disruptive manner, or with intent to annoy, abuse, threaten or harass any other person.
Any use of robotic, automatic, macro, programmed or like entry methods will void all such entries by such methods and persons using any such methods will be disqualified. Each entry submission must be manually key stroked and manually entered by the individual entrant; automated and/or repetitive electronic submission of entries (including but not limited to entries made using any script, macro, bot or sweepstakes service) will be disqualified and transmissions from these or related email or IP addresses may be blocked. The accumulation of coins generated through robotic, automatic, macro, or like methods is also strictly prohibited, regardless of whether the Automated Cheat was used in connection with your account.
CAUTION: ANY ATTEMPT BY A USER OR ENTRANT OR ANY OTHER INDIVIDUAL TO DELIBERATELY DAMAGE ANY WEBSITE OR UNDERMINE THE LEGITIMATE OPERATION OF THE PROMOTION IS A VIOLATION OF CRIMINAL AND CIVIL LAWS AND SHOULD SUCH AN ATTEMPT BE MADE, SPONSOR RESERVES THE RIGHT TO SEEK DAMAGES AND COSTS (INCLUDING WITHOUT LIMITATION, ATTORNEYS' FEES) FROM ANY SUCH PERSON TO THE FULLEST EXTENT PERMITTED BY LAW.
If for any reason this Promotion is not capable of running as planned due to infection by computer virus, bugs, tampering, unauthorized intervention, fraud, technical failures, or any other causes which, in the sole opinion of Sponsor, corrupt or affect the administration, security, fairness, integrity, or proper conduct of this Promotion, Sponsor reserves the right to cancel, terminate, modify or suspend the Promotion. If the Promotion is terminated due to tampering or technical difficulties prior to its expiration date, notice will be posted at our Website.
7. LIMITATIONS OF LIABILITY
SPONSOR DOES NOT ASSUME RESPONSIBILITY FOR ANY ERROR, OMISSION, INTERRUPTION, DELETION, DEFECT, DELAY IN OPERATION OR TRANSMISSION, COMMUNICATIONS LINE FAILURE, THEFT OR DESTRUCTION OR UNAUTHORIZED ACCESS TO ITS WEBSITES. SPONSOR IS NOT RESPONSIBLE FOR ANY PROBLEMS OR TECHNICAL MALFUNCTION OF ANY TELEPHONE NETWORK OR TELEPHONE LINES, COMPUTER ON-LINE SYSTEMS, SERVERS, COMPUTER EQUIPMENT, SOFTWARE, FAILURE OF ANY E-MAIL OR ENTRY TO BE RECEIVED BY SPONSOR ON ACCOUNT OF TECHNICAL PROBLEMS, HUMAN ERROR OR TRAFFIC CONGESTION ON THE INTERNET OR AT ANY WEBSITE, OR ANY COMBINATION THEREOF.
SPONSOR IS NOT RESPONSIBLE FOR ANY INCORRECT OR INACCURATE CAPTURE OF INFORMATION OR THE FAILURE TO CAPTURE SUCH INFORMATION, WHETHER CAUSED BY WEBSITE USERS, TAMPERING OR HACKING, OR BY ANY OF THE EQUIPMENT OR PROGRAMMING ASSOCIATED WITH OR UTILIZED IN THE PROMOTION. SPONSOR IS NOT RESPONSIBLE FOR INJURY OR DAMAGE TO PARTICIPANTS' OR TO ANY OTHER PERSON'S COMPUTER RELATED TO OR RESULTING FROM PARTICIPATING IN THIS PROMOTION OR DOWNLOADING MATERIALS FROM OR USE OF THE WEBSITE.
IN NO EVENT WILL SPONSOR, PRIME PUBLISHING LLC OR THEIR PARENT COMPANIES, DISTRIBUTORS, AFFILIATES, SUBSIDIARIES, OFFICERS, VENDORS, ADVERTISING AGENCIES AND PROMOTION AGENCIES AND EACH OF THEIR RESPECTIVE DIRECTORS, OFFICERS, EMPLOYEES, REPRESENTATIVES AND AGENTS, BE RESPONSIBLE OR LIABLE FOR ANY DAMAGES OR LOSSES OF ANY KIND, INCLUDING DIRECT, INDIRECT, INCIDENTAL, CONSEQUENTIAL OR PUNITIVE DAMAGES ARISING OUT OF YOUR PARTICIPATION IN THIS PROMOTION, ACCESS TO AND USE OF THE WEBSITE OR THE DOWNLOADING FROM AND/OR PRINTING MATERIAL DOWNLOADED FROM THE WEBSITE. WITHOUT LIMITING THE FOREGOING, EVERYTHING ON THE WEBSITE AND IN THIS PROMOTION IS PROVIDED "AS IS" WITHOUT WARRANTY OF ANY KIND, EITHER EXPRESS OR IMPLIED, INCLUDING BUT NOT LIMITED TO, THE IMPLIED WARRANTIES OF MERCHANTABILITY, FITNESS FOR A PARTICULAR PURPOSE OR NON-INFRINGEMENT. SOME JURISDICTIONS MAY NOT ALLOW THE LIMITATIONS OR EXCLUSION OF LIABILITY FOR INCIDENTAL OR CONSEQUENTIAL DAMAGES OR EXCLUSION OF IMPLIED WARRANTIES SO SOME OF THE ABOVE LIMITATIONS OR EXCLUSIONS MAY NOT APPLY TO YOU. CHECK YOUR LOCAL LAWS FOR ANY RESTRICTIONS OR LIMITATIONS REGARDING THESE LIMITATIONS OR EXCLUSIONS.
8. DISPUTES
As a condition of participating in this Promotion, you agree that any and all disputes which cannot be resolved between the parties, claims and causes of action arising out of or connected with this Promotion, or any prizes awarded, or the determination of the Winner shall be resolved individually, without resort to any form of class action exclusively by arbitration pursuant to the commercial arbitration rules of the American Arbitration Association, then effective. Further, in any such dispute, under no circumstances will you be permitted to obtain awards for, and you hereby waive all rights to claim punitive, incidental or consequential damages, or any other damages, including attorneys' fees, other than your actual out-of- pocket expenses (i.e., costs associated with entering this Promotion), and you further waive all rights to have damages multiplied or increased. All issues and questions concerning the construction, validity, interpretation and enforceability of these Official Rules, or your rights and obligations or Sponsor's or Prime Publishing LLC's rights and obligations in connection with this Promotion, shall be governed by, and construed in accordance with, the laws of the State of Illinois, U.S.A., without giving effect to the conflict of laws rules thereof, and all proceedings shall take place in that State in the City of Northbrook, County of Cook.
In the event of a dispute as to the identity of the Winner based on an e-mail address, the winning entry will be declared made by the authorized account holder of the e-mail address submitted at time of entry. "Authorized account holder" is defined as the natural person who is assigned to an e-mail address by an Internet access provider, on-line service provider or other organization (e.g., business, educational, institution, etc.) that is responsible for assigning e- mail addresses for the domain associated with the submitted e-mail address.
9. WINNERS LIST
For name of winner's mail a self-addressed stamped envelope for receipt no later than 30 days after this Giveaway promotion expires to: Giveaway Promotion # ___ (see above) c/o Prime Publishing LLC, 3400 Dundee Road Suite 220, Northbrook, IL 60062. For Official Rules mail a self- addressed stamped envelope to the above address marked "GIVEAWAY OFFICIAL RULES" for receipt no later than 10 days before this Giveaway promotion expires. The names of winners at times may also be posted on our Website.
10. Sponsored by:
Prime Publishing LLC, 3400 Dundee Road, Suite 220, Northbrook, IL 60062.
With special thanks to our 'Provider of Prizes'.
[ Close Rules ]
[
Close
]
Alternate Entry Methods
LATEST TV RECIPE & VIDEO
Hosting a party? If so, then you've got to make our Not-Fried Chicken Cheese Balls! They feature the delicious trio of chicken, cheese, and bacon in an easy-to-eat form. Your guests will love taking a bite out of these (and you'll love how simple they are to make!).