The Originators of Quick & Easy Cooking!
Christmas Candy Recipes: 24 Ideas for Homemade Christmas Gifts
Free Christmas Candy Recipes eCookbook from MrFood.com
Christmas Candy Recipes: 24 Ideas for Homemade Christmas Gifts eCookbook
Do you hear those sleigh bells ringing yet? Is every house on your block decorated for the season? What about the smells – does the whole world smell like pine trees and freshly baked cookies? If you answered yes to any of these, then you might be right in the middle of the holiday season! And with so many things to get excited about this season, it can be hard to choose what makes this time of year so special.

Here at the Mr. Food Test Kitchen we get excited about spending a little extra time in the kitchen, preparing special eats and treats for all of our family, friends, and neighbors. There's just nothing better than being able to share our love of food and cooking! In fact, we love it so much that we combined the Christmas tradition of gift-giving with our passion for food, to bring you this amazing, free eCookbook, Christmas Candy Recipes: 24 Ideas for Homemade Christmas Gifts. This book is full of tasty, homemade, Christmas candy recipes that you and all of your loved ones are going to enjoy!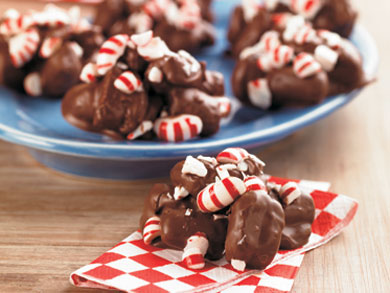 Ever seen someone dig into a bag of trail mix – you know, the kind with the chocolate candy pieces and the salty nuts? We call that person the sweet 'n salty fan and you'll find quite a selection of easy Christmas candy recipes that they're gonna love! One of our very favorites is our recipe for Sea Salt Cashew Turtles (page 7). This recipe is great for satisfying all of those sweet and salty cravings, 'cause it's got a little bit of everything in it, including milk chocolate, creamy caramel, nuts, cashews, and...sea salt! They'll be so popular that you'll have a hard time making just one batch! And if you really want to give 'em a candy that has an extra Christmas-y touch, then our Chocolate-and-Peppermint Coated Pretzels (page 6) are just the ticket! Not only does the peppermint flavor remind us of Christmas, but the red and white pieces remind us of candy canes, too!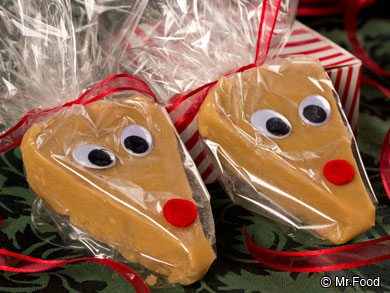 You could say that we've got a special place in our hearts for fudge. After all, who doesn't love indulging in a decadent treat from time to time, especially during the holidays? With our easy fudge recipes, like Reindeer Fudge (page 11) you're sure to be known as the top gift-giver this Christmas! This peanut butter fudge recipe is one of our all-time favorite homemade Christmas gifts. Why? Because we love decorating it to look like one of Santa's reindeer; it's irresistibly delicious and adorable! Oh, and for those lovers of all things nutty, chocolatey, and marshmallow-stuffed, you'll be happy to find an old-fashioned fudge recipe for Rocky Road Fudge (page 15). Yep, we've got something for everyone! Whether you wrap your fudge up in pretty paper or place it inside a beautiful box, you can be sure it'll be received and enjoyed with an ear-to-ear smile! If you're looking for Christmas candy recipes for gifts, these holiday sweets are sure to tickle their fancy.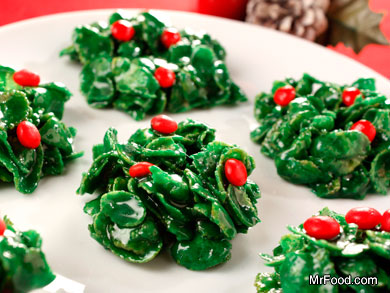 Our cluster candy recipes are so easy to make, you might even want to invite some little elves into the kitchen! This is a great way to build some new memories, and to teach them the joy of gift-giving, too. They're gonna love decorating the festive Holly Crackles (page 22) or taking a bite out of the Candy-Covered Cherry Crunch (page 19). We bet you'll never believe what makes that one so crunchy! We wouldn't blame you for sneaking a cluster or two in before wrapping the others for gifts. It's a good thing they're so easy to make!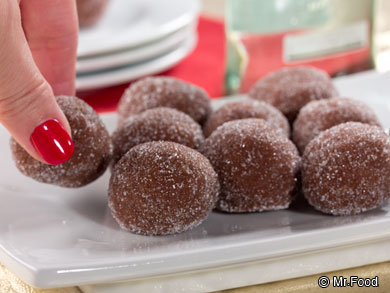 Our old-fashioned Christmas candy recipes aren't just for the kids! They're great for adults, too! Take our recipe for Dolly's Rum Balls (page 23). This adults-only candy recipe really has that Christmas "spirit" that adults love during the holidays! We've also got a great, gourmet, candy shop-quality recipe for Cherry Cordials (page 26). This easy candy recipe makes for a really beautiful gift, especially when it's presented in an elegant dish! Of course, we can't forget tradition; our Butterscotch Yule Log Slices (page 28) are a Christmas-favorite. This candy looks just as good as it tastes! So, you see, there's no need to rush to those expensive candy stores. The perfect homemade Christmas gift is easier to make than you could have imagined. The only difficult part is choosing which recipes you'll be making this year!
With your free copy of Christmas Candy Recipes: 24 Ideas for Homemade Christmas Gifts, you can also subscribe to our Mr. Food Quick & Easy Everyday Cooking newsletter to become part of a vibrant community of home cooking enthusiasts. In subscribing to the newsletter you will receive:
Six weekly emails with free recipes, tips, menu planning, videos and more
Chances to win cookbooks and other products from our giveaways and contests
Access to our free recipe collection full of thousands more free triple-tested recipes from the Mr. Food Test Kitchen
The opportunity to share ideas and help others in the cooking community
As a fan of Mr. Food's Quick & Easy cooking philosophy, I know you can see the value in this free ebook. Try out these great homemade Christmas gift ideas with the free Christmas Candy Recipes: 24 Ideas for Homemade Christmas Gifts. Once you subscribe to receive our newsletter, you'll see how much fun it is to be a part of the Mr. Food community! If you've ever searched for quick and easy recipes, fast dinner ideas, slow cooker recipes or anything in-between, let MrFood.com deliver triple-tested recipes straight from our Mr. Food Test Kitchen that are both easy to make and delicious to eat. Check out this free eBook and the MrFood.com site to draw tons of inspiration for your next holiday or meal!

Report Inappropriate Comment
Are you sure you would like to report this comment? It will be flagged for our moderators to take action.
Thank you for taking the time to improve the content on our site.
.12 06 15.
LATEST TV RECIPE & VIDEO
Potato pancakes are a symbolic and scrumptious treat commonly made for Hanukkah. Not only are they super crispy and really tasty, but thanks to the pre-shredded potatoes you can find at your favorite supermarket, these Simple Shredded Potato Pancakes are, well, simple to make!