The Originators of Quick & Easy Cooking!
Mr. Food Light, Simple and Tasty Recipes free eCookbook
Happy New Year from the Mr. Food family! Many of us resolve to eat lighter in the new year. Now that reality has hit, if you're stumped as to how to stick with those lofty goals, we hear you!

With the free Mr. Food Light, Simple & Tasty eCookbook, we're ready to help you lighten up with quick and easy recipes that will tantalize your taste buds without tipping the scale. After all, eating lighter doesn't have to mean totally giving up on our favorite foods.

You'll become a believer fast when you simmer a pot of our Skinny Soup or mix up some Thick 'n' Creamy Mushroom Soup. We're betting you'll love 'em, and our change-of-pace salads, too! Think you can't enjoy sweets? Think again! We've got everything from heart-healthy melt-in-your mouth Oatmeal Bars and rich-tasting-yet-lighter Orange Dream Shake to…are you ready? This isn't a misprint…Double Chocolate Brownies and Banana Cream Pie! Yes, our versions taste decadent but will keep you on track to eat lighter. And when it comes to main-dish favorites and go-alongs, we've got pizza and pasta, and so much more! With recipes this good-tasting that are simple to make, you may just find some of those pounds melting away like snow in winter.

No need to dread those resolutions any more…the waistline-busting party food is a thing of the past. We've got exciting new recipes to brighten your 2011 mealtime line-up, and every one of them will be an…"OOH IT'S SO GOOD!!®"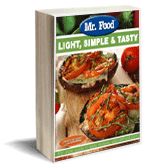 Click here to download the Light, Simple & Tasty free eCookbook now! [pdf]
Included in this 41-page eCookbook: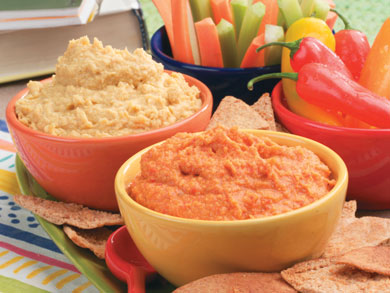 Oatmeal Bars — Melt-in-your-mouth Oatmeal Bars are a healthy cookie option that taste so good, no one will even realize how wholesome and nutritious they are! (Page 7)
Roasted Red Pepper Hummus — Snacking doesn't need to be bad for if you choose the right snacks. We suggest serving this healthy snack with cut fresh veggies for dipping. Maybe pack a small container and take it to work for a late afternoon snack. (Page 9)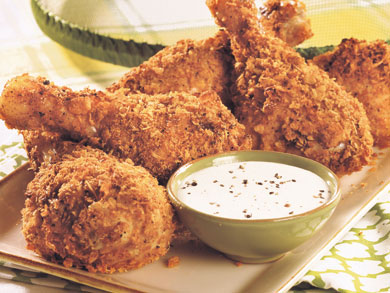 Chicken Bolognese — Our version of Chicken Bolognese is a lighter twist on the traditional Italian-style Bolognese sauce. Made with ground chicken and served over heart-healthy whole grain pasta, it tastes just as rich and hearty as the original. (Page 12)
Oven-Fried Drumsticks — This healthier recipe for fried chicken minus the frying will surely fit your goal to eat right. It's an oven-baked chicken with a crispy coating that tastes terrific! (Page 14)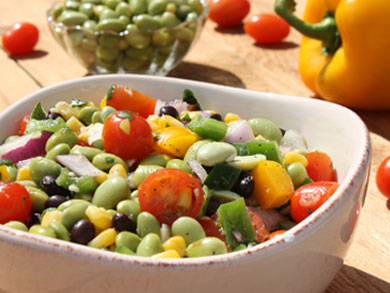 Skinny Soup — What's the skinny on eating lighter? This hearty yet healthier homemade soup may be just the answer. Simmer a pot on the stovetop and enjoy the garden-fresh flavors that are bursting with goodness! (Page 23)
Edamame Garden Salad — The popular Asian soybean, edamame, turns this ordinary corn and bean garden salad into something extraordinary. Edamame Garden Salad is a healthy go-along that fits any of your main-dish favorites.(Page 26)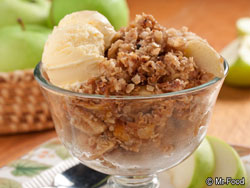 Apple Crisp — Miss America 1999, Nicole Johnson, joined Mr. Food on his show to share this favorite apple recipe of hers that everybody will love, including people on diabetic diets. As a diabetic herself, she knows that eating healthy doesn't mean sacrificing flavor. (Page 32)
Double Chocolate Brownies — One bite of my sinfully rich Double Chocolate Brownies, and you'll never use another recipe again! Whether you're eating lighter or not, these brownies are an incredible treat. (Page 37)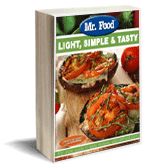 Click here to download the Mr. Food Light, Simple & Tasty free eCookbook now! [pdf]
For help downloading this eCookbook, please see our guide on how to download eCookbooks.
LATEST TV RECIPE & VIDEO
What could be better on a cold winter night than a skillet supper bursting with the hearty flavors of smoked sausage and cabbage? Nothing! And few can beat the ease of our Skillet Sausage 'n' Cabbage. This cabbage recipe is the perfect fill-you-up one-pot meal option for chilly autumn and winter evenings. Even the pickiest members of your family won't be able to resist this classic. The hearty combination of cabbage and sausage will keep you warm and satisfied, which is one of the reasons people love cabbage and sausage dinner recipes in the winter. Oh, it's so comforting!