The Originators of Quick & Easy Cooking!
The Best Chocolate Chip Cookie Recipes: 5 Simple Chocolate Chip Cookie Recipes
Did you know that chocolate chip cookies were created by accident? A baker named Ruth Graves Wakefield needed to make a batch of chocolate cookies but ran out of regular baker's chocolate. Instead, she plopped in pieces of semi-sweet chocolate and hoped that the pieces would bleed and spread throughout the cookie. Unfortunately for Ruth, the pieces stayed put. Fortunately for us, the first chocolate chip cookie was made. There are so many easye chocolate chip cookie recipes that we just had to share some of them with you today.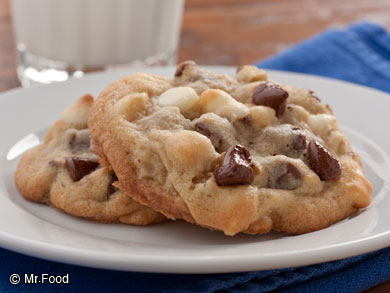 Brickle and Chip Cookies: Whether you like you cookies a tad bit undercooked so they are gooey and warm or you like your cookies crunchy and crumbly, this Brickle and Chip Cookie is the cookie for you. This is one of the best chocolate chip cookie recipes of all time.
Chocolate-Cherry Cookies: Cherry and chocolate pair very well together. The fruitiness of the cherries matched with the sweetness of the chocolate makes this one of the best chocolate chip cookie recipes out there. Even though this is not like your traditional chocolate chip cookie recipe, it's definitely a keeper.
Famous Hotel Chocolate Chip Cookies: This simple chocolate chip cookie recipe is so good you probably don't even need to bake it at all. We all love chocolate chip cookie dough, and we all love to eat it before any baking begins. Of course, these cookies also taste incredible fresh-from-the-oven, so no matter how you like 'em, it's one of the best chocolate chip cookie recipes we've got.
Pumpkin Patch Chocolate Chip Cookies: Even though easy chocolate chip cookie recipes are some of the most sacred recipes you can find and you shouldn't mess with perfection, you need to try these unusually tasty Pumpkin Patch Chocolate Chip Cookies. This new twist on the classic is the perfect recipe to bring out during the fall.
Triple Chocolate Chip Cookies (shown above): Do you want to make a chocolate chip cookie even better? Just add more chocolate chips in to the recipe! You can never go wrong with adding more chocolate into anything. These Triple Chocolate Chip cookies are choco-tastic!
LATEST TV RECIPE & VIDEO
If you have a big Christmas list, we've got a yummy, budget-friendly solution! Our Caramel-Dipped Chocolate Apples are the perfect DIY Christmas gifts! Everyone will love the combo of ooey gooey caramel, sweet chocolate, and crisp apple, but want to know the best part? There's an unlimited amount of ways to decorate these!