The Originators of Quick & Easy Cooking!

International Favorites: 6 Menus From Around The World
Bonus: Get our newsletter & special offers for free. We will not share or sell your email address. View our Privacy Policy

Christmas Celebrations eCookbook: 5 Holiday-Special Menus with 34 Recipes
Free Christmas eCookbook from MrFood.com

Christmas Celebrations eCookbook: 5 Holiday-Special Menus with 34 Recipes


For a tasty and hassle-free holiday, we've got easy recipes for every Christmas celebration you can imagine! Whether you're trimming the tree or hosting a holiday potluck, our Christmas Celebrations eCookbook features 5 holiday-special menus with 34 quick and easy recipes to make your yuletide joyfully delicious. This festive collection includes a variety of recipes so no matter the holiday celebration, you'll be ready with crowd-pleasing appetizers, cocktails, main dishes, sides and desserts. With the Mr. Food Test Kitchen's best and most-requested recipes in your back pocket, we bet you'll be hearing more "OOH IT'S SO GOOD!!" this Christmas than "Ho ho ho!"

Our eCookbook sponsor, Youngstown Fresh Pomegranate Arils, shares their passion for pomegranate this holiday season; you may have seen this red, apple-like fruit in your local grocery store around this time of year. Pomegranate arils are the delicious edible seeds inside, and they're jam-packed with antioxidants. Wait'll you see the amazing recipes the Mr. Food Test Kitchen developed that feature these ruby red gems! Pomegranate arils are just the thing to give your Christmas menu that seasonal color.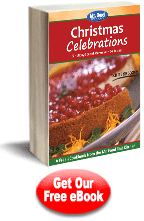 Download your free copy of Christmas Celebrations eCookbook: 5 Holiday-Special Menus with 34 Recipes today.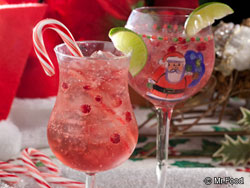 As the holiday season kicks into high gear, there's plenty of festive events to help us countdown to Christmas! Whether you're hosting a group of friends for a Secret Santa exchange or a gathering of neighbors for a caroling party, the Mr. Food Test Kitchen has plenty of easy holiday appetizers for any size get-together. Our Tree Trimmin' Menu features Christmas drink recipes like the Santa Spritzer (page 1) and simple-to-make finger foods like Holiday Pinwheels (page 2). Planning a holiday open house? Savor the flavors of the season with our sampling of Christmas party food ideas - from Cocktail Bundles (page 10) to Sticky Red Wings (page 11). Our rich Chocolate Wreath Fudge (page 13) makes for jolly table decor - that is, if you can leave this edible wreath out long enough before it gets nibbled!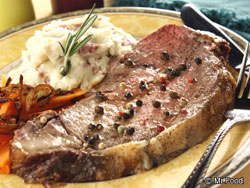 'Twas the night before Christmas...Before your family is nestled all snug in their beds and dreaming of sugar plums, it's time to gather for a delicious Christmas Eve meal! The Mr. Food Test Kitchen has taken all the guesswork out of serving amazing Christmas Eve food with our classic menu. Our easy-yet-elegant Pepper-Crusted Prime Rib (page 16) rivals anything you can find at the fanciest restaurant, especially when paired with muffin-style Yorkshire Pudding (page 18). We've also got the perfect Christmas Eve side dishes, and be sure to leave room for one of our holiday desserts, like Creamy Cheesecake with Pomegranate Topping (page 21). And of course, don't forget to leave something special out for Santa! We think Mr. C will appreciate our Cherry Mint Cookies (page 5) with a glass of milk.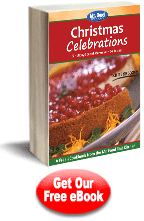 Download your free copy of Christmas Celebrations eCookbook: 5 Holiday-Special Menus with 34 Recipes today.
Who wants to stuck in the kitchen during the most festive season of the year? Holiday dinners don't have to be backbreaking work, and the Mr. Food Test Kitchen wants to make your Christmas celebrations super-easy. Our collection of "anyone can do it" holiday recipes are festive enough to impress, and simple enough that they don't require hours in kitchen. From fun Christmas cake ideas and traditional Christmas recipes to holiday cocktail recipes and fresh recipes from our friends at Youngstown Pomegranate Arils, our triple-tested holiday recipes will be just what you need for a very merry Christmas.

Whether you're preparing a big holiday meal, making a bring-along dish or hosting a holiday party, you'll be amazed at how fast you can wrap up these Christmas recipes. With our Christmas Celebrations eCookbook, you'll spend less time in the kitchen - which means more time to celebrate the season with your family and friends!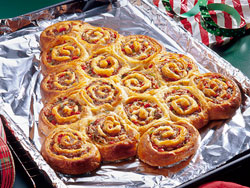 On Christmas morning, after the stockings have been emptied and the presents ripped open, thoughts usually turn to breakfast! This year, with our handy Christmas Morning Brunch Menu at the ready, you'll know just what to serve your hungry gang. These easy breakfast recipes have holiday-festive taste with very little fuss, so you can enjoy unwrapping your gifts instead of being stuck in the kitchen. We've also included recipes you can get ready the night before - like our Holiday Sausage Rollups (page 25). Makeahead dishes are ideal for Christmas morning since they're so easy! With Christmas Morning Strata (page 23), Cinnamon Pecan Muffins (page 26) and Holiday Hot Chocolate (page 27) on the menu, we know this hearty brunch will leave you cozy and satisfied as you gather around the tree and celebrate Christmas morning with your loved ones.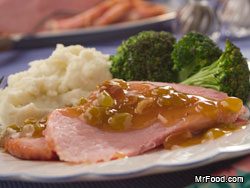 With friends and family gathered around a yuletide feast, you shouldn't be running around the kitchen overwhelmed and understaffed. That's why the Mr. Food Test Kitchen has created a Traditional Christmas Menu With no-fuss main dishes like Sherry-Glazed Ham (page 31) and super-simple shortcuts like serving two sides in one a la Mashed Potato Stuffing (page 32), our low-maintenance dinner lets you enjoy the Christmas celebration without all the stress. Our Christmas menu features classic holiday recipes as well as some new twists on old favorites, such as No Egg Eggnog (page 28) and Pomegranate Honey-Roasted Game Hens (page 30). This delicious dinner will taste as though you've spent all day in the kitchen, but thanks to a few Test Kitchen shortcuts, you won't have to!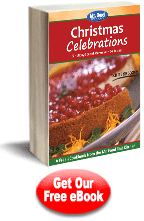 Download your free copy of Christmas Celebrations eCookbook: 5 Holiday-Special Menus with 34 Recipes today.
With your free copy of Christmas Celebrations eCookbook: 5 Holiday-Special Menus with 34 Recipes, you can also subscribe to our Mr. Food Quick & Easy Everyday Cooking newsletter to become part of a vibrant community of home cooking enthusiasts. In subscribing to the newsletter you will receive:

Six weekly emails with free recipes, tips, menu planning, videos and more
Chances to win cookbooks and other products from our giveaways and contests
Access to our free recipe collection full of thousands more free triple-tested recipes from the Mr. Food Test Kitchen
The opportunity to share ideas and help others in the cooking community

As a fan of Mr. Food's Quick & Easy cooking philosophy, I know you can see the value in this free ebook. Try out these easy and delicious Christmas recipes with the free Christmas Celebrations eCookbook: 5 Holiday-Special Menus with 34 Recipes. Once you subscribe to receive our newsletter, you'll see how much fun it is to be a part of the Mr. Food community! If you've ever searched for quick and easy recipes, fast dinner ideas, slow cooker recipes or anything in-between, let MrFood.com deliver triple-tested recipes straight from our Mr. Food Test Kitchen that are both easy to make and delicious to eat. Check out this free eBook and the MrFood.com site to draw tons of inspiration for your next holiday or meal!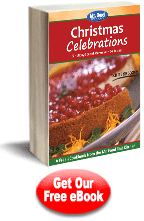 Download your free copy of Christmas Celebrations eCookbook: 5 Holiday-Special Menus with 34 Recipes today.
LATEST TV RECIPE & VIDEO
Our Feel-Good Smoothie Bowl features the perfect blend of fresh-from-the-freezer fruit, almond milk and honey. It's a healthier way to start your day, since each bowl is loaded with vitamins and nutrients. And if you top each bowl with a little granola and extra fruit, you'll be adding even more goodness to your morning meal!