The Originators of Quick & Easy Cooking!
16 Simple Egg Recipes Plus Egg Safety Tips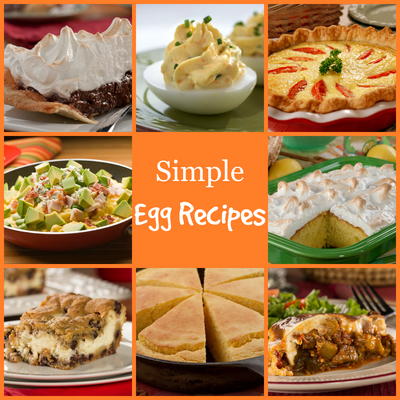 This handy guide is packed with simple egg recipes, safety tips and easy step-by-step cooking instructions. Learn how to cook your eggs properly and then test out your skills with one of 16 simple egg recipes.
Cooking Eggs: What You Need to Know
Let's get the facts straight on egg safety. Eggs should be thoroughly cooked. America's egg farmers continually work to ensure the safest and highest quality eggs possible. We can all do our part by properly and safely transporting, storing and preparing eggs and all our food .
Here's how to handle, store and cook eggs safely:
-Never leave eggs out at room temperature for more than 2 hours, or 1 hour if it's warm
-Store eggs in the main section of the refrigerator, not on the door; they need to remain at a constant temperature between 33 and 40 degrees F.
-Clean hands, utensils and food surfaces are a must to reduce the chance of cross-contamination
-Eggs should be cooked until the whites and yolks are firm
For our favorite dishes made with eggs, like quiche and meat loaf, an instant-read thermometer helps verify that the safe internal temperature of 160 degrees is reached.
To learn more about egg safety, visit eggsafety.org or call 404-367-2761.