The Originators of Quick & Easy Cooking!
How to Core an Apple
We have two easy ways to core an apple and lots of tips for working with apples on this page!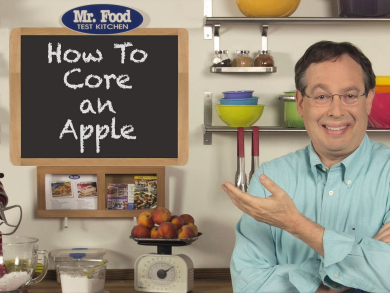 If you keep putting off making a homemade apple pie from scratch, because you're not sure how to core an apple, or how to peel an apple, then you've come to the right place!

While we love using convenient shortcuts, like apple pie filling, we know there's something extra-special about making some of our favorite apple dessert recipes with fresh apples, especially when they're in season!

After all, there's nothing that says fall more than the smell of freshly baked apple pie, and other classic comfort treats. 
 
Be sure to check out our video and tips on how to core an apple below. Once you see how easy it is to core apples, you'll never go for the store-bought pies again! 
Table of Contents
How to Use an Apple Corer
If you are looking for how to core an apple using an apple coring tool, follow this tutorial. You can find apple corer tools in most stores that sell kitchen tools and utensils.

An apple corer has a shaft that ends in a cylinder with little sharp teeth. Make sure the shaft of your apple corer is tall enough to go through a good-sized apple.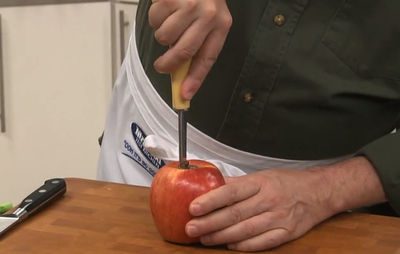 1. Make sure the apple is secure on a flat surface and held with one hand. With the cylinder facing down towards the apple, push down into the apple core and pull it out slowly. (Yep, it's that easy!)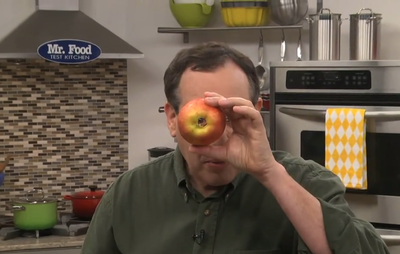 2. To remove the core from the apple corer, just take a paring knife and push in. You don't want to use your fingers since the corer does have little teeth. You now have a perfectly cored apple!
How to Core an Apple With a Knife
If you're looking for how to core an apple without an apple corer, don't fret because we'll show you how! You can use a paring knife or a chef's knife to core an apple if you don't have the special tool.

Unlike the coring tool, this does require you to cut the apple into pieces. That's why the coring tool is recommended for the full, circular apple slices (such as those made for apple fritters). Any other cuts can be made using this knife coring method.
1. Cut your apple in half. Then, cut each half in half. (You will have cut your apple into quarters).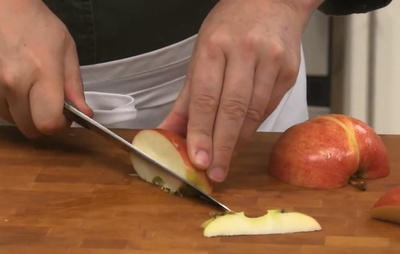 2. Lay each quarter flat, and cut at an angle to cut off the core. Cut as close to the core as possible.
Apple Coring FAQs
Let's answer some of the most frequently asked questions about apples:
How do peel an apple?
You can use a paring knife, potato peeler, or apple peeler machine to peel your apples. See the step-by-step instructions for each by reading our guide, How to Peel an Apple.

How do you core an apple without cutting it in half?
The safest method is to use an apple coring tool. If care is taken, the whole apple can also be sliced through while on its side and then you can use a knife to cut around the core (while it is laid flat on a cutting board).

How do you core an apple and keep it whole?
Use an apple coring tool, which removes the center without having to cut the apple (it remains whole).

Is it safe to eat an apple with a brown core?
In most cases, yes, it is safe to eat an apple if the core is brown. If the apple has been cut and exposed to oxygen, it will naturally start to brown, which is fine and safe for consumption.
First, inspect the apple for mold or signs of rot. If there is mold, do not eat it. If there isn't, cut as much of the brown part away as possible and eat.

How do I keep apples from browning?
Immediately after cutting, toss in a a food-safe acid, such as a citrus or pineapple juice. You can also use vinegar, a lemon-lime soda, or a mixture of honey and water to prevent browning. Learn more with our guide, How to Keep Apples from Turning Brown.

BONUS! Easy Apple Recipes
Now that you know how easy it is to core apples, why not try your hand at making some of these easy apple recipes?

For even more easy apple recipes, including videos and apple advice, take a look at our page, Easy Apple Recipes and Other Apple Tips! 
What is your favorite way to eat apples?
Let us know in the comment section below!