The Originators of Quick & Easy Cooking!
How to Make a Sponge Cake
Have you ever tried sponge cake? This popular cake is known for its light and airy texture. You might even say it feels sort of like a sponge! Most folks love to bake sponge cake during the warmer months or during the holidays, when they're looking for something light and simple that can be paired off with fresh berries, a couple of dollops of whipped cream, or a light glaze. Of course, we think sponge cake can be enjoyed any time of the year! So, if you're looking for a tasty homemade cake to add to your dessert spread, give sponge cake a try!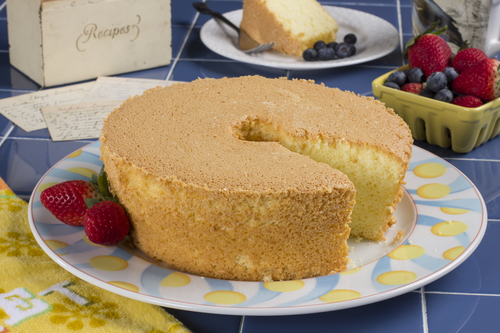 Check out our video and tips on how to make a sponge cake. Once you see how easy it is, you'll want to bake up this light cake every time you've got company coming over!
Pour egg whites into a mixer and beat until soft peaks form. Soft peaks should be standing, but still sort of folding over.
Add sugar and beat on high until stiff peaks form. Stiff peaks stand up and hold their shape.
In a separate bowl, beat egg yolks and sugar. Beat the yolk and sugar mixture by hand, until everything is well incorporated.
Add extract and juice. For Aunt Mickie's Sponge Cake recipe we use vanilla extract and lemon juice. Mix until well incorporated.
Add baking powder and flour. Mix until well incorporated.
Take egg white mixture and fold into egg yolks and flour mixture. Fold, don't beat, until it's all the same color.
Bake cake in a non-greased pan. The key to baking a sponge cake is to use a non-greased pan. You don't want to grease your pan because the sponge cake needs to stick to the side of the pan as it rises. You can place wax paper at the bottom of the pan to avoid it sticking to the bottom as it bakes.
Once the cake has cooled, remove by inverting onto a plate. You may need to run a knife around the outside edges and give it a gentle shake. If it doesn't come out easily, let it cool for a few minutes longer. Invert once more to get the cake right-side up.
LATEST TV RECIPE & VIDEO
When it comes to choosing healthier meal options and indulging in something delicious, you can have both with our Steakhouse Salad! If you can't give up your love of steak, but need to start looking for something lighter at dinner time, this is the recipe for you. This meal gets a seal of approval from both veggie lovers and meat lovers everywhere, so don't miss out!