The Originators of Quick & Easy Cooking!
Easy Recipes for College Students
To college students, living away from home means one thing: No more home-cooked meals. Goodbye are the days of Mom's famous meatloaf, and hello are the days of "interesting" dining hall concoctions. But living in a dorm room or even an apartment doesn't mean you need to create different ramen noodle recipes for every meal. Nowadays, most dormitories have common rooms on each floor that are equipped with kitchen appliances for residents to use, and you can fit a mini fridge and microwave comfortably in your room. Research what your specific school and dorm allows, and see how effortlessly we can create deliciously easy recipes for college students.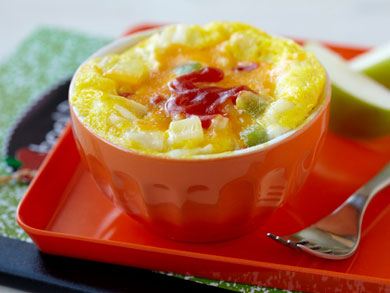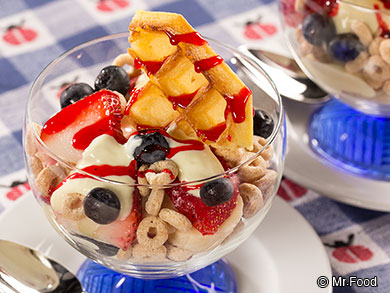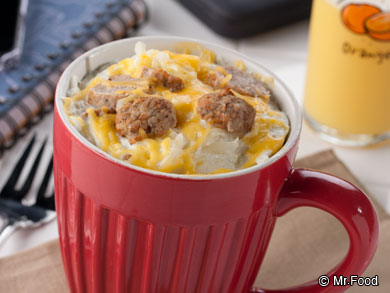 Breakfast
Before a full day of classes, you're going to want a hearty breakfast. Sometimes that granola bar isn't going to cut it 'till lunch, so we've got some cheap, easy recipes that don't require an oven!
With just four ingredients in a microwave, our 3-Minute Breakfast Hash will be ready before you can decide which t-shirt is clean enough to wear another day in a row. It's full of protein to keep you focused in your new classes.
All you need is a bowl and toaster oven to recreate one of our delicious Super Breakfast Sundaes. If your dorm doesn't allow a toaster oven and your common room kitchen doesn't have one, just nix the waffles and have yourself a tasty fruit-salad parfait.
If you're looking for a little bit more protein in your first meal of the day, then our Breakfast in a Mug is the way to go. Pop the mixture in your microwave for a hearty sausage-filled starter.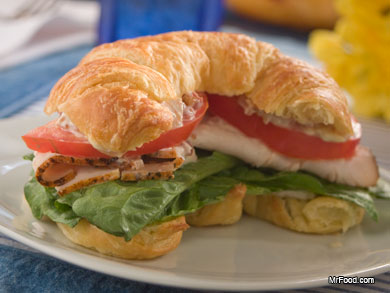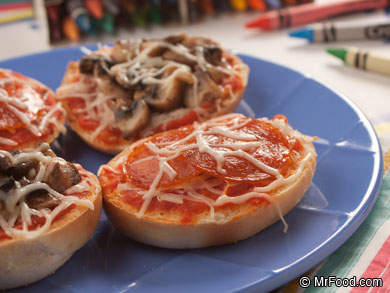 Lunch/ Dinner
Pizza, the holy grail of college foods, is unfortunately not a food group. To expand your cooking horizons, we recommend always having a fresh loaf of bread, a few packs of ramen noodles, and some canned soup on your shelf at all times. For when you just can't have another meal at the dining hall, try out some of these tasty and easy recipes for college students.
With just a few simple ingredients, our Croissant Club Sandwiches take deli meat to a new level. You can cut down on this recipe to make enough for just one sandwich, or you can make a few extra to save for another day, or to share with friends.
You'll definitely want something that'll fill you up, so that's when we bring in our Quick Microwave Chicken Fingers. If you've got a fridge in your room, plain chicken breasts are a great thing to keep on hand - just as long as you eat them up before they go bad!
And hey, just 'cause we said pizza isn't a food group doesn't mean we can't enjoy it like it's one! You just need four ingredients to make our Itsy Bitsy Pizza Bagels, so pop 'em in the toaster oven (or regular oven if your common room has one), and enjoy!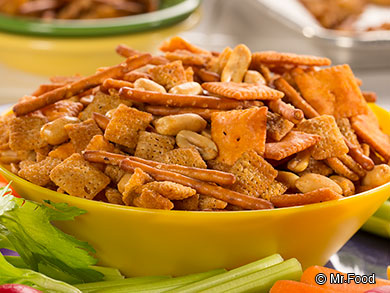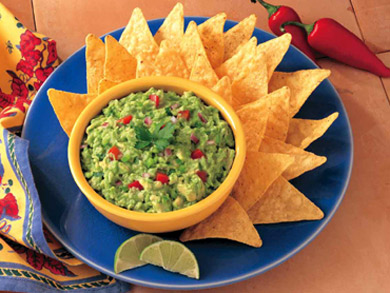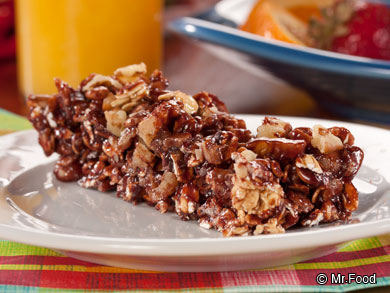 Snacks
Chances are between meals you'll want something to munch on. If you're looking for foods to put on your college dorm checklist, we suggest keeping some pretzels, crackers, or dry cereal as options. If you're looking for more advanced no-bake, no-oven-needed snackage, you've come to the right place.
Next time you're looking for a snack while you're binge watching Netflix, throw together our Awesome Munchies. It's made with all simple ingredients that are great options to always have on hand, and the best part is that you can make this mix in the microwave!
We won't tell your mom if you're craving something healthy. Quick Guacamole is a delicious, fresh, and not to mention nutritious snack option! All you need for this is a few basics and some tortilla chips for dipping!
A snack that's perfect for any time of day is our No-Bake Granola Bars. It's chock full of granola and nuts to keep you full and satisfied 'till your next meal!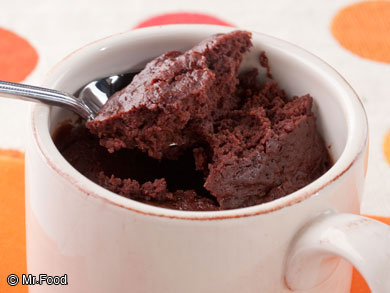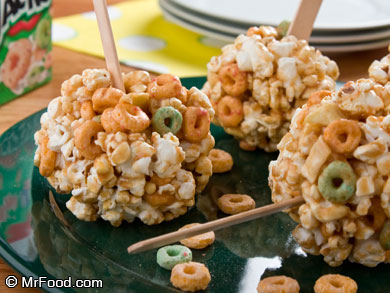 Dessert
Although Freshman 15 haunts us all, sometimes we need a sweet treat that can be ready in a moments notice, and one that doesn't require much effort. That's why some of our favorite easy recipes for college students are desserts. We can make single-sized treats that'll curb our sweet tooth. Yum!
A brownie in a mug - need we say more? We didn't think so! Our Chocolate Mug Brownie is almost too good to be true, but it's not! Don't forget a glass of milk to wash it down!
If you're looking for another dessert in a mug, then you've gotta try our Italian Cream "Mug" Cakes. It's perfect for when you want a fancy-looking treat without leaving your room.
For another dessert you can make in the microwave, we love Caramel Apple Popcorn Balls. Popcorn is a great snack food to keep in your dorm room, and we love the sweet and salty combo of this treat!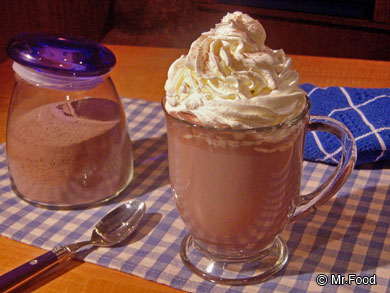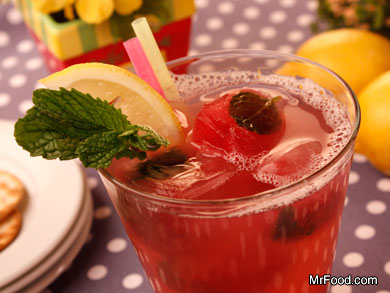 Beverages
If you're a coffee connoisseur, a single serve coffee maker will be your new best friend at school. They're the perfect size to prop up on your desk, and you can brew a cup right before class, or whenever you need a little pick-me-up! We've got a few easy recipes for college students to spice up your average cup of coffee, as well as a few additional cheap, easy recipes for the next time you're thirsty.
During winter months, you'll be craving a fresh cup of hot chocolate. If you've got an individual coffee maker, put some Hot Cocoa Mix into a mug and run hot water through the machine. Talk about comfort!
If you're feeling fancy, treat yourself to a Lemonade Cranberry Cooler.You can adjust the recipe to your specific liking, and sip to stay cool while it's hot outside.
Save time by skipping long lines at the coffee shop and make your own holiday treat whenever you please! An easy way to take your coffee to the next level is by transforming it into a Peppermint Mocha Coffee! Just add a few ingredients to your morning cup and you'll feel like your sipping on holiday magic all year long!
You've probably been forming a college dorm checklist, and now you've got a bunch of new items to add! There are endless possibilities to create impressive meals with just a few ingredients on hand. Make sure to stock your mini fridge regularly, and throw out any food before it goes bad. Although we know nothing compares to a home-cooked meal, these easy recipes for college students are a good start!