The Originators of Quick & Easy Cooking!
How to Use a Chimney Starter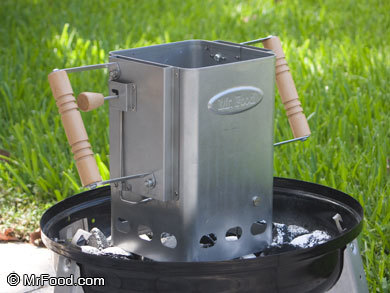 If you prefer grilling the traditional way, you can get your coals ready quickly and eliminate the cost, odor, and danger of lighter fluid by using a chimney starter.
What to Do
When using a chimney starter, always follow your manufacturer's instructions.
Safe locations to light a chimney starter include:
On the grate of another grill
On fire-safe bricks placed on your deck or patio
On a terra cotta flower pot saucer without a drain hole
How to light a chimney starter:
Loosely roll up a couple sheets of newspaper and place in the bottom of your chimney starter, right-side up. Be sure it's on a fire-safe surface.
Fill the top with the amount of charcoal you want to light.
Light the newspaper in several locations. You'll begin to see smoke coming out the top of the chimney starter. Don't worry...this is normal!
After the newspaper has burned completely, wait 1 to 2 minutes, then hold your hand over the chimney starter. You should feel the heat. Be careful!
It will take 10 to 15 minutes for the coals to be glowing and lit, depending on the amount and type of charcoal you use. Even the wind can make a difference in how long it takes!
The charcoal is ready when you see orange color glow deep inside the chimney starter and gray/white ash starting to form on some of the charcoal. (Don't wait for all the charcoal to be covered with white ash, or the coals on the bottom will be too burnt out.)
Chimney Starter Safety Tips:
Wear heat-resistant gloves when handling a hot chimney starter.
Remember that a chimney starter will remain hot for a while even after the coals have been poured out.
Never place a chimney starter on or near flammable materials like a wooden deck or dry grass.
Never light a chimney starter directly on a concrete surface, as the heat may cause the concrete to explode, damaging the concrete and possibly causing injury.
LATEST TV RECIPE & VIDEO
Looking for a twist on boring old salads? Our South-of-the-Border BBQ Chicken Salad is going to be a flavor loaded way to chow down on something light. This BBQ chicken salad recipe is simple, fast, and insanely delicious. One bit and you'll know what we mean!