The Originators of Quick & Easy Cooking!
Perfectly Easy Pancakes: 28 Simple Pancake Recipes
Free Simple Pancake Recipes eCookbook from MrFood.com

Perfectly Easy Pancakes: 28 Simple Pancake Recipes
Stack 'em up! Making pancakes has never been so much fun with this eBook, Perfectly Easy Pancakes: 28 Simple Pancake Recipes, with flavors ranging from blueberry to chocolate chip — and even potato! These recipes for fluffy pancakes will keep you and your family smiling all weekend long. Grab your favorite syrup and a fork, and take a bite out of the best pancake recipes around!

Breakfast time is family time, and who can deny that pancake recipes are truly some of the best recipes for breakfast. They're so easy to customize to satisfy everyone in the family: fruity, chocolaty, or anything in between! You'll certainly want to keep this eCookbook handy because we guarantee you're going to be heading back to the kitchen to make a second batch! Sometimes you just need to make pancakes from scratch in order to get that fluffy pancake you've been craving — a side-of-the-box recipe just won't cut it! We suggest you stock up on your favorite toppings like fresh fruit, butter, maple syrup, jam, hot fudge, or anything else, and get ready for a bed-and-breakfast meal that will have you ready to take on the day!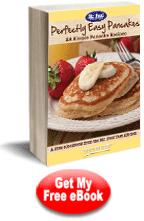 Download your free copy of Perfectly Easy Pancakes: 28 Simple Pancake Recipes today.
There's nothing like a refreshing batch of blueberry pancakes to brighten up your morning! With a burst of fruity flavor in every bite, you'll surely be ready to take on even the busiest of days. There's nothing like capturing the quiet tranquility of the countryside with some homemade pancakes, especially when it involves the Sunday paper and our recipe for Bed and Breakfast Blueberry Pancakes (page 1). That down-home country cooking has never tasted better than with this farm-style classic recipe for Blueberry Buttermilk Pancakes (page 4). How can you argue with easy pancake recipes like these?

Our love-of-fruit tour continues, and our next stop includes banana pancakes! Whether you're looking to chow down on a hearty breakfast or are just waking up in time for brunch, these homemade pancakes will have you grinning from ear to ear. If you're a chronic sweet tooth, you'll simply love our simple pancake recipe for Bananas Foster Pancakes (page 5). Just add a touch of ice cream or whipped topping for a mouthwatering dessert for breakfast! If you're looking for a rich, unforgettable flavor, you'll want to check out our easy recipe for Banana Pancakes with Golden Banana Syrup (page 6). Drizzled in a thick layer of golden banana syrup, this is a great pancake recipe fit for royalty.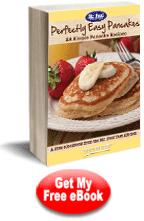 Download your free copy of Perfectly Easy Pancakes: 28 Simple Pancake Recipes today.

It can be difficult to find the time (or energy) in the morning to grab anything other than a breakfast bar or bagel. We know that breakfast is the most important meal of the day, yet we can never have the stamina to get going in the morning. Sound familiar? All of us at the Mr. Food Test Kitchen believe that having a healthy breakfast does not have to be a hassle. Let's face it: would you rather eat a plateful of fluffly pancakes or get stuck with your same ol' breakfast bar day in and day out? It's time to treat yourself — and your family! Our "Quick & Easy" philosophy guarantees that all of our recipes use ingredients you'll easily be able to find at your local grocery store. Plus, we've triple-tested all of our recipes to ensure that you'll hit each of these simple pancake recipes right out of the park the very first time you try it.

So what are you waiting for? Reclaim the peace and quiet of your mornings with easy pancakes recipes full of that "OOH IT'S SO GOOD!!®"
If there's one great pancake recipe that wins the award for "Most Kid-Friendly," it's got to go to one of these chocolate chip pancakes. We don't know if there's a kid (or adult) that can deny the irresistible allure of chocolate in the morning. You feel like you're not supposed to be doing it which is what makes it taste even better! Dessert for breakfast has never tasted so good than with this simple pancake recipe for Banana Split Pancakes (page 9). Covered in bananas, chocolate chips, strawberries, whipped cream, and cherries, you'll certainly want to make sure you savor each and every bite. For something a little more traditional, our recipe for Fluffy Chocolate Chip Pancakes (page 12) is sure to get the whole family on board. Made with a secret ingredient for some extra-fluffy pancakes, this is one recipe you won't want to miss!
If there's any kind of pancake that's going to get you out of bed in the morning, it's going to be coming from one of these homemade German pancake recipes. Filled with all of your favorite fruits, from apple to blueberry and everything in between, these easy pancake recipes are sure to make your kitchen more popular than any pancake house! Our recipe for Hootenanny Pancakes (page 13) is one way to get in your recommended serving of fruit! With three kinds of fruit (and counting!), this simple pancake recipe is a grand slam! For a perfect-anytime twist, you won't want to miss out on our simple pancake recipe for Dutch Apple Pancakes (page 16). It doesn't matter if you're looking to chow down morning, noon, or night — these fluffy pancakes are here to stay!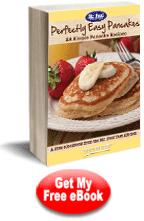 Download your free copy of Perfectly Easy Pancakes: 28 Simple Pancake Recipes today.
There's no reason why you should have to feel guilty eating your favorite batch of fluffy pancakes. Even though you're trying to eat healthy, you shouldn't have to miss out on your favorite breakfast meals, including pancakes! We bet you'd never have guessed that our Cinnamon Applesauce Pancakes (page 19) might actually be good for you! If you're looking for an no-egg pancake recipe or even a no-milk pancake recipe, you've finally found one that tastes just like the real stuff. We know you want to keep your kids eating healthy too, and we're right there with you. Our homemade pancake recipe for Whole-Wheat Buttermilk Pancakes (page 20) has "family-friendly" written all over them!
We hope you're just as excited as we are for our super-sized pancake menu, filled with our best vegetable and potato pancake recipes! We've got so many different options for simple pancakes that you won't even know where to start. We recommend giving our recipe for Old Fashioned Potato Pancakes (page 23) a try. These potato latkes are just what you've been looking for to complete the perfect breakfast meal. For a sweetened twist, you'll need to make a stopover at our favorite easy pancake recipe for Sweet Potato Pancakes (page 27). Whether you're looking for a dish for holiday entertaining or just want to shake up your usual breakfast routine, this easy pancake recipe is definitely a keeper!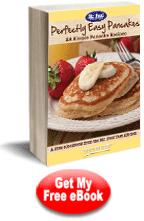 Download your free copy of Perfectly Easy Pancakes: 28 Simple Pancake Recipes today.
With your free copy of Perfectly Easy Pancakes: 28 Simple Pancake Recipes, you can also subscribe to our Mr. Food Test Kitchen Quick & Easy Everyday Cooking newsletter to become part of a vibrant community of home cooking enthusiasts. In subscribing to the newsletter you will receive:

Six weekly emails with free recipes, tips, menu planning, videos and more
Chances to win cookbooks and other products from our giveaways and contests
Access to our free recipe collection full of thousands more free triple-tested recipes from the Mr. Food Test Kitchen
The opportunity to share ideas and help others in the cooking community

As a fan of Mr. Food's Quick & Easy cooking philosophy, I know you can see the value in this free ebook. Try out these easy cake recipes with the free Perfectly Easy Pancakes: 28 Simple Pancake Recipes. Once you subscribe to receive our newsletter, you'll see how much fun it is to be a part of the Mr. Food community! If you've ever searched for quick and easy recipes, fast dinner ideas, slow cooker recipes or anything in-between, let MrFood.com deliver triple-tested recipes straight from our Mr. Food Test Kitchen that are both easy to make and delicious to eat. Check out this free eBook and the MrFood.com site to draw tons of inspiration for your next holiday or meal!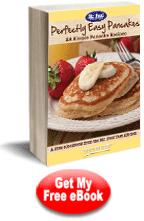 Download your free copy of Perfectly Easy Pancakes: 28 Simple Pancake Recipes today.
LATEST TV RECIPE & VIDEO
You've got to try our Homemade Jelly Donut Holes for a fun and sometimes messy treat that's great all-year-round! Wonder how we get the jelly in the middle? The secret is using a drinking straw to make space for that oh-so-sweet jelly that fills the center! Top these with powdered or cinnamon sugar, and let the family get their fingers a little sticky! Just make sure to keep the napkins handy.